Ford Parts &amp Accessories
Find quality parts and accessories that are designed specifically for your Ford.
From batteries and brake pads to alternators and spark plugs, one place has what you need: FordParts.com. Every part in our extensive catalog comes recommended by Ford Motor Company and is available to purchase online from your dealer. Check it out and discover how easy it is to order parts online.
Ford Custom Accessories
Add a dash of personal style, as well as protect and enhance your Ford. Discover all the exciting accessory options for your make and model and see how great they'll look on your vehicle. It's fast and easy to order accessories online.
Shop the official Ford Merchandise Store where you can buy online licensed Ford apparel, die cast models, personal accessories, and home and office collectibles.


Best-Selling Maintenance Items

LOW PRICE TIRE GUARANTEE.
LOW PRICE TIRE GUARANTEE.
Why buy tires anywhere else, when your Ford Dealer offers all of this:


• 13 major brands
• 30-day price guarantee
• All makes and models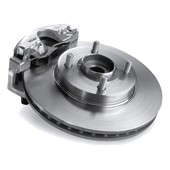 MOTORCRAFT® BRAKE PADS INSTALLED $99.95 or less.
MOTORCRAFT® BRAKE PADS INSTALLED $99.95 or less.